THE TRUTH ABOUT GENETICALLY MODIFIED GMOS
This film was completed in 2014 and was screened at Cardinal Stritch University in front of college students and the public. The documentary film explained what genetically modified foods are, potential health risks, transparency in food labeling and alternative food choices. This film also premiered on Time Warner Cable.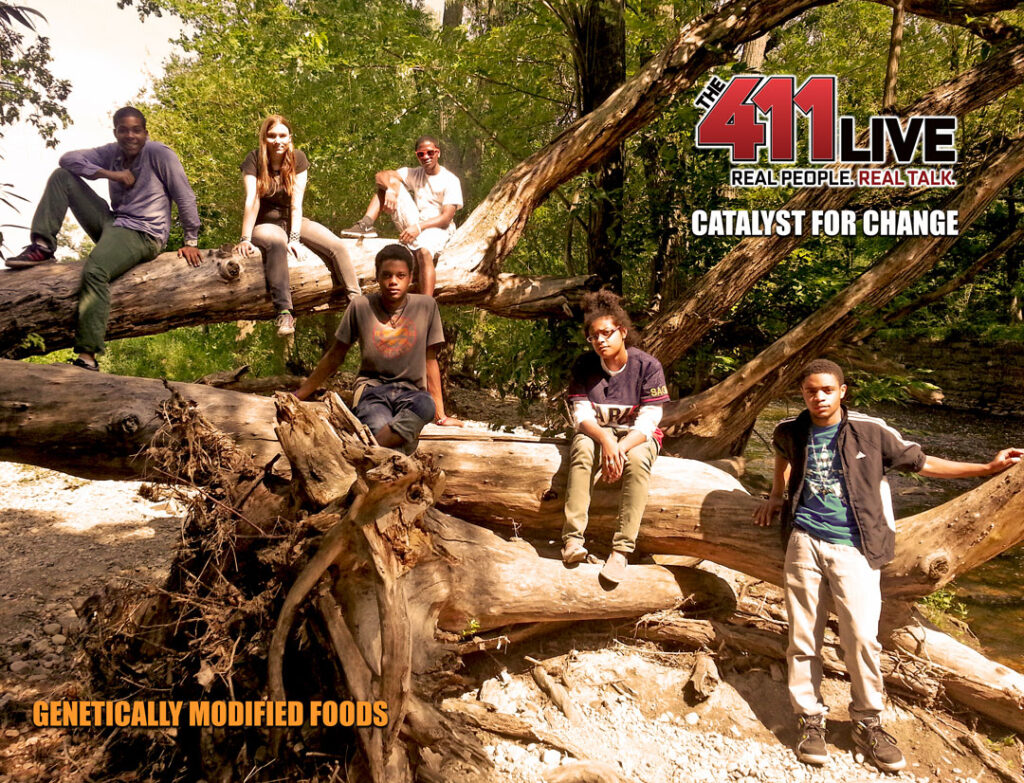 For 8 weeks 2 college students and 4 high school seniors did researched about genetically modified foods, learned about the 3 phases of video production, participated in making a song and going through the music production process. Finally they wrote blogs about genetically modified foods. They all wrote the scripts, participated in location scouting, setup lighting, performed in the videos and ran camera and audio. When it was all said and done, they created 3 skits integrated with a music video.
Genetically Modified Foods Outreach Event
The outreach event kicked off with the song that the students made about GMOs then their videos screened. One of the students hosted the event and introduced the film. Following the film screening, a panel discussion took place. The panel included Braise Restaurant owner Dave Swanson, Anti GMO Activist from Moms Across America, Anne Temple, Three Brothers Farm owner and certified permaculture designer Michael Gutschenritter, Bioidentical Hormone and HCG Diet Specialist Dr. Susan Riegg and Organic Certifier of Natures International Certification Services David Engel.
This event enabled students and the general public to interact with the featured panelists who just so happen to be in the film. In addition, a shopping guide and a tip sheet was created to give attendees along with other resources if they wanted to avoid GMOs. The students were excited to see themselves on the big screen and they also ran camera and audio for the event.
W

h

a

t

a

r

e

G

e

n

e

t

i

c

a

l

l

y

M

o

d

i

f

i

e

d

F

o

o

d

s

?
Genetically Modified Foods or Genetically Engineered Foods contain ingredients that are foods produced from organisms that have had specific changes introduced into their DNA using the methods of genetic engineering. These ingredients are called Genetically Modified Organisms (GMOs). GMOs are plants or animals that have had their genes altered with DNA from different species of living organisms, bacteria, or viruses by scientists in a lab. This is done to get the desired traits such as resistance to disease or tolerance of pesticides. These techniques have allowed for the introduction of new crop traits as well as a far greater control over a food's genetic structure than previously afforded by methods such as selective breeding and mutation breeding.
The FDA requires no labeling or testing for these foods.  To date most genetic modification of foods have primarily focused on cash crops in high demand by farmers such as Corn (field and sweet), Soybeans, Cotton, Canola, Alfalfa, Sugar Beets, Papaya, Squash and zucchini. These cash crops have been engineered for resistance to pathogens and herbicides. Genetically Modified Salmon is up for approval and there are speculations of GM livestock being experimentally developed today.
This video will explore, what genetically modified foods are, possible health risks, transparency in food labeling and alternative food choices.